Dongguan Homyell Packaging Materials Co.,Ltd.
E-Mail:hy.yy@air-bagchina.com.cn
TEL:86-13809278551
Address:Zhengkeng Industrial Zone, building A, Dongkeng Town, Dongguan city, Guangdong Province, China.
factory Sell kinds of black air bags, air packaging for toner cartridge
factory Sell kinds of black air bags, air packaging for toner cartridge
Model NO. HP35/36/88A
Price:US $ 0.23-0.24 / pieces
Minimum order quantity:2000 pieces
Accept Min order:Yes
Supply Ability:200000 pieces / Week
Country of Origin:dongguan
Product Description
Type:Toner Cartridge
Place of Origin:CN;GUA
Feature:COMPATIBLE
Brand Name:Homyell laser toner cartridge
Bulk Packaging:Yes
Compatible Brand:brother
Compatible Brand:canon
Compatible Brand:EPSON
Compatible Brand:HP
Compatible Brand:LEXMARK
Compatible Brand:Samsung
Cartridge's Status:Empty
Colored:NO
Model Number:H006 forHP35/36/88A
black air bag for toner cartridge:black u type air bag
toner cartridge air bag:black air bag for toner cartridge
air bags:plastic airbags
The detail informations of air bag for toner cartridge:
1.Homyell offer black original U-seal type , Q-cap transparent t type , T-endcaps transparent airbag for kinds of toner cartridges.
2.Each Model airbag is designed strictly according to the size of toner cartridge, we could also design different size of airbag according to your requirements.
3.air bag materials: laminated by PE and nylon.
4.All air bags are strictly produced in accordance with the ISO9001 and ISO14001.
5.To use of reverse technology for leakage-proof , using internal air pressure as a protective barrier.
6. With a number of airbag-type personal protection, buffer protection is better than the performance of EPE / EPS, etc.
7. Moisture-proof, anti-vibration, anti-drop, anti-wear, fully protection.
8. Support an exceptionally strong force, the gas bag can withstand the weight 60 ~ 120kg.
9. Can print own brands LOGO, enhance the product image greatly.

packaging :500pcs/CTN MOQ:2000pcs
Guarantee:
1.We confirms that the qualified rate for new compatible inkjet cartridge is on or above 99%, for recycled inkjet cartridge is 97%, for all new laser toner cartridge is 98%.
2.quality assurance period for new compatible is 24 months, for recycled ink cartridge is 12 months, for laser toner cartridge is 12 months.
3.we will replace defective goods 1:1 once confirmed by both of buyer and seller.
Inflatable Air bags Advantages:
1. Air-Bag cushions are ready-made to use minimal storage space.
2. Air-Bag reduces transportation costs.
3. The Air-Bag cushion is rupture-proof, withstanding up to 60-120kg pressure.
4. The Air-Bag cushion offers maximum protection.
5. Air-Bag cushions can reduce packing costs by 20-40%.
6. The Air-Bag cushions are fully recyclable and environmentally friendly.
Our service:
1. Steady quality with competitive price.
2. Strict control system for production.
3. Prompt delivery time.
4. Answering the inquiry within one working day.
5. Cooperation with excellent forwarders for shipment routing.
6. Design of new packing or according to the needs of customers to supply private label service
Operation Description:
Step1:Taking out toner cartridge airbag
step2 Put the toner cartridge into it
Step3:Air filling under fixed air pressure is a Small-size air compressor, Air Pressure Adjustment Valve, Air Filling Sets on Working Bench and Air Filling Hand Gun are necessary.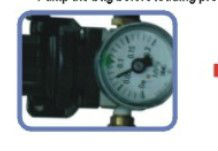 Set the air pressure under between 0.06-0.08 Pa

Remarks,To who purloined our products photoes ,Please don't put it on website ,Or we will inform alibaba to solve this problem.Thanks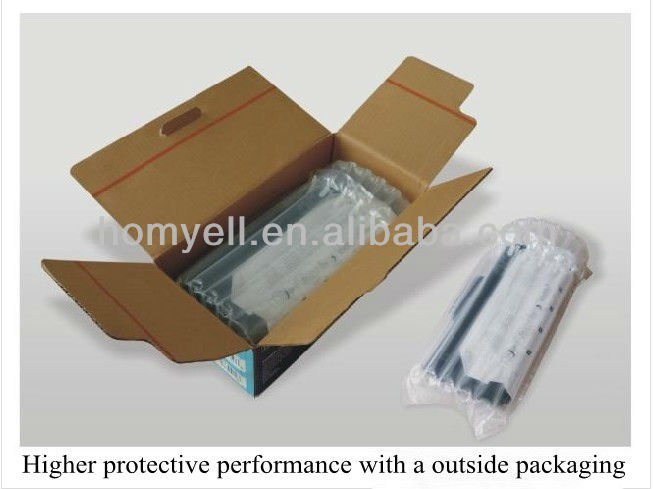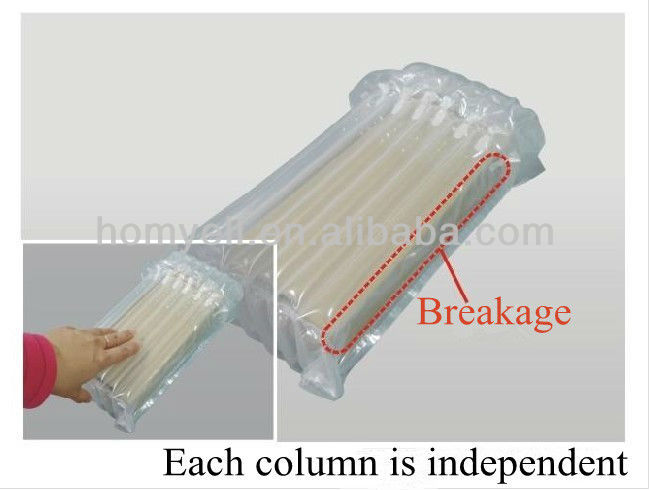 Choose Us,Choose Guarantee!