Dongguan Homyell Packaging Materials Co.,Ltd.
E-Mail:hy.yy@air-bagchina.com.cn
TEL:86-13809278551
Address:Zhengkeng Industrial Zone, building A, Dongkeng Town, Dongguan city, Guangdong Province, China.
customized plastic air pillow dunnage bags
customized plastic air pillow dunnage bags
Model NO. AD
Accept Min order:Yes
Product Description
Item

Plastic air tube bag

Size

As per customer's requirement

Mateiral

PE+PAlaminated

Thinkness

140μ 160μ 180μ 200μ are avalible

Printing

can print logo on airbag surface

Designe

Qtype/Ltype custom require are avalible

Appication

for protecting like wine bottle, hard disc,

computer, television etc.

sealing handle

Self Adhesive Seal

Easy operation

Inflate directly, no need sealing, save labor cost.

Air column

Each air column is designed separately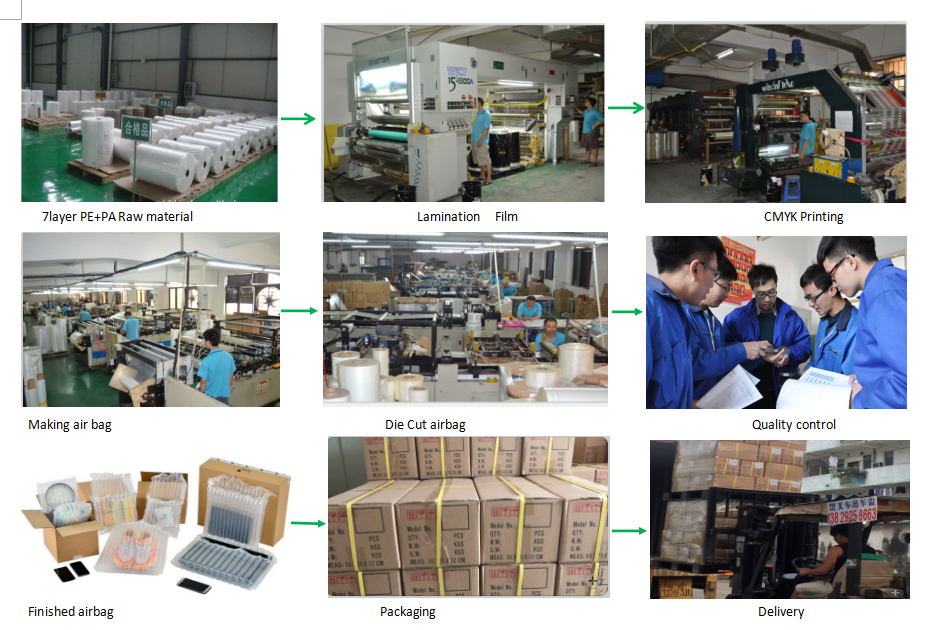 HomYell focus on manufactures produceInflatableair pillow bag have been 10years
with 5000sqm factory area, it passed ISO9001 and ISO 14001

1,Homyell can offer different color ,different design ,different mateirals according customer requirement ,Not only just transparent common airbag as Homyell have uiniq laminated technology on materials.
2.Quality ensure
We can control rejection rate under 5‰,Homyell have 60% employees are working on airbag 5years
We will replace defective goods 1:1 once confirmed by both of buyer and seller.
3, Good price
Excellent Financial condition and cost structure. There is guaranteed continuous flow of goods and services from us and Lean philosophy, i.e. that we eliminating non-value-adding activities in design, production, supply chain management, and dealing with our customers in order to achieve minimum cost and increase efficiency.

High Management capability. We are committed to continuous process and quality improvement, overall professional ability and experience, ability to maintain positive relationships with our workforce. Most importantly, we have steady and qualified upstream raw material supplier so we can focus on producing the finest product with lowest cost.
4,Good payment term
We can give customer credite time ,Once bussiness reationship up to 2year
5, Fast delivery
Homyell have 10 production line ,Output 120,000 pcs airbag/day
6, Flexable style
We can offer 20/30/40/60/90mm air tube bags/ Air tube wrappe Roll/air sheet ,different color for customer chooice ,

1,What's is air cushion bag?
customer also called he airpack/air cushion bag/air tube bag/air filling bag
Air cushion bags is Laminated using PE and nylon with air valve film in between, heat pressed with a high temperature mold to melt them together.
2,The different between airbag/airpack/air coushinbag/air tube bag with foam material/foam material?
Air bag design features a series of adjoining air tubes which are securely inflated to cushion and protect products during shipment, The tubes are connected via a series of patented on way valves, if one chamber is punctured , the others remain inflated,90% air
3,What's the Advantage of Air cushion bag?
Air cushion bag can typically withstand multiple drops, The packaging performs long after other types have failed able to withstand up to 60-120kg with out demage
Upgrade200% protection!Save90%broken cost
Air cushion bag can save shipping and storage benefits the film rolls before inflation occupy very small space, saving storage cost.
ave 95% space, Save 95% weight, save 95% shipping cost!
Air cushion bag easy air inflation, convenient use, meets Just In Time demandnon-toxic, SGS certificated, can be recycled.
Air cushion bag non-toxic, SGS certificated, can be recycled
4, How does airbag when temperatures change?
air cushion bags withstand great changes of temperature without any problems. The minimum temperatureendurance starts at -22° F. (-30 ° C.) and goes up to the maximum temperature endurance of 140° F. (60° C.).
5,Air cunshion bag application?
Now air bag was widely used in consumerprotection of electronics(DVD,laptop. Tablets.ebook ,readers ,PC.office toner cartridge ,
Fragile object(pack wine bottle , Milk tin , olive oil)
6,How to inflate airbag?
The equipment want to prepare 1, air compressor/ pump 2, air gun 3, adjust air valve
INSTRUCTIONS:
1- Locate the arrow at the edge of the bag, use a pump along the pointing to inflate the bag directly.
2- During inflation, hold the two edges tightly to keep it from leaking.
3- Adjust the bag appropriately so that air can flow in each column.
4- Insert Bottle